It's Janmashtami today and almost every kid resembles Lord Krishna as he was naughty and mischievous, the way our little kids are. Janmashtami celebrations are incomplete without dressing up your kid as Lord Krishna. Don't worry if you are going to do this for the first time as we are here with some tips to dress up your kid as Krishna on Janmashtami. Check them out below:
· Outfit
Lord Krishna is mostly depicted wearing a yellow dhoti, so stick to the same color for your little one. Readymade dresses are easily available in the market so you can pick one of them.
· Crown
Keep the crown simple and small. You can make one at home using cardboard and peacock feather. Just keep in mind that the crown doesn't have anything that can hurt your child.
· Flute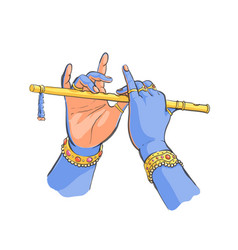 Little Krishna is incomplete without a flute. You can easily get a toy flute from the market, it is reasonable as well. Just pick the right length.
· Jewellery
Lord Krishna was a prince, so do not forget to accessorize your child. Choose something with a smooth finish and non-sharped edges so that it doesn't irritate your child. Avoid using anything that he might swallow by mistake. Also, keep in mind that the jewelry is not tight or uncomfortable.
· Flower garland
Do not forget to put a flower garland in your child's neck. You can use some fresh flowers or artificial ones as well.
· Mud pot
We all have heard stories of Krishna stealing butter at home and from the neighborhood. Take the Krishna theme to the next level with a small earthen pot. You can also paint and decorate it beforehand.
· Makeup
No makeup is suggested as it harms the delicate skin of kids so just put a tilak on his forehead.
These were some simple things that you need to keep in your mind while dressing up your baby as 'Lord Krishna'. Festivals are a great time to dress up your kid, so enjoy doing it.